Featured Volunteers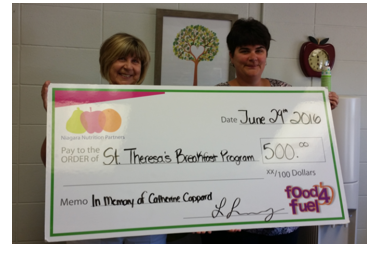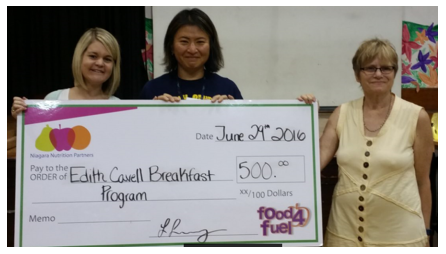 Last September, The Grocery Foundation sent recognition to four of our amazing volunteers in Niagara. They each received $500 towards infrastructure items for their program. Please join us in recognizing and celebrating these 4 outstanding volunteers: Becky Parton, Maria Soutiriou, Catherine Coppard & Yoko Hurst.
Becky Parton has been the staff advisor for the breakfast club for 4 years. Becky saw an opportunity to combine the math, literacy and life skills curriculum with the needs of the breakfast club, in terms of shopping, price matching, making lists, preparing muffins and stocking supplies. She says it's awesome to take them out into their own community, and get to know the staff at No Frills. Becky follows along, supervises and pays the bill. They are learning skills right down to how to properly pack groceries so the bananas don't get bruised! "There are so many tasks that are needed to be done (shopping, cleaning, stocking, baking, dishes) that there is always a task perfect for every student's level and it's awesome to see the students working as a team".
Maria Soutiriou is a Learning Resource Teacher at Eastdale and has been the program coordinator for over 5 years. She is extremely dedicated to serving the needs of the students in her community. Maria was hesitant to accept the reward solely and insisted that her "team" be recognized as well. She shared that the program is truly a community effort and the enthusiasm from Maria's fellow volunteers is exceptional. The students have discovered a positive, dependent and safe space within the nutrition program.
Catherine Coppared was an instrumental part in re-starting St. Theresa's program. She noticed there was a need for someone to spearhead the program. Being a full-time nurse, nutrition and feeding kids was very important to her. Unfortunately, Catherine was only with St. Theresa for a short time as she passed away last May. School staff noticed her hard work in the nutrition program and felt she needed to be recognized. She is truly missed by all the staff and students at St. Theresa Catholic School.
Yoko Hurst is an educational assistant at Edith Cavell and is known as the cook of the breakfast program. She is at the school at the crack of dawn every single morning making delicious meals for the children. If you visit the program, you cannot leave without someone talking about Yoko – everyone appreciates the hard work and dedication she puts into the program. She also works very hard at creating a variety of menus so that the children continue to come to the breakfast program.
Get more information about how you can get involved with Niagara Nutrition Partners.