Fonthill Sobeys steps up for Niagara Nutrition Partners
October 02, 2018
By Steve Henschel - Niagara This Week - Welland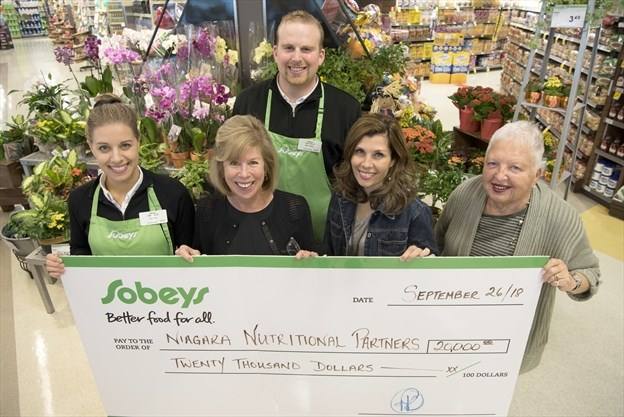 Fonthill Sobeys staff members Alicia Corey and Michael Jacques joined Anne Kirkpatrick, Jess Stephenson and Judy Reid of Niagara Nutrition Partners this week to hand over $20,000 in proceeds from an annual golf tournament hosted by the grocery store. - Steve Henschel/Metroland
Ron Kore knows a bit about feeding people, and so do his staff — after all, they do operate a grocery store.
But beyond slicing up deli meat and bagging up produce bound for Fonthill dinner tables, the owner of the Fonthill Sobeys and his team have spent years ensuring that schoolchildren across Niagara have a full stomach when they sit down to learn. That tradition continued this week as Kore and his staff turned over $20,000 in proceeds from an annual golf tournament, held June 19 at Peninsula Lakes Golf Club, to Niagara Nutrition Partners (NNP).
"There's a need. As long as there's a need we will continue to do it," said Kore, who, over six years has raised $80,000 through the tournament for the non-profit that delivers breakfast, snack and lunch programs to more than 150 schools across Niagara, affecting 17,000 students. The program assists schools, both elementary and secondary, in all four school boards.
"Every child needs to start the day off right," said NNP program manager Anne Kirkpatrick, explaining nutrition plays a critical role in learning outcomes for young students. That's what makes the programs, run by NNP volunteers, so important she said. NNP assists volunteers in menu planning, meeting regulations and it provides funds for food.
Those programs, however, could not happen without community support, Kirkpatrick said. She noted provincial funding covers just 15 per cent of the program cost.
"We work very hard to leverage donations," she said, adding Kore's continuous efforts have been a boon for the organization, especially as Kore and his staff undertake nearly all aspects of organizing and running the annual tournament and silent auction.
"It's really huge for us," said Kirkpatrick, adding, "The man doesn't even golf."
Community support like that of Sobeys keeps the programs running and students fed, she said.
"If they come to school hungry, for whatever reason, they can start the day with a healthy breakfast," said Kirkpatrick.
This year, 142 golfers participated in the tournament.