General Motors behind Niagara Nutrition Partners Santa Surprise
December 06, 2018
Providing a $5,000 bounty of healthy foods to 8 schools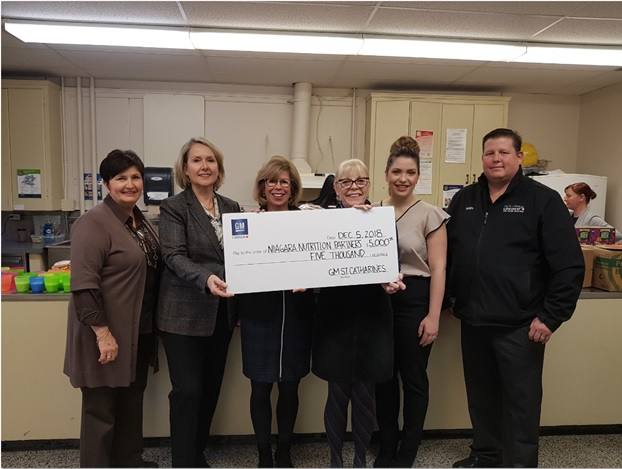 From L to R: Karen Campbell-High (Connaught Teacher and Program Coordinator)Carolyne Watts (Plant Manager, General Motors), Anne Kirkpatrick (Program Manager, NNP), Kelly Diiorio, (Principal, Connaught), Nicole Mooney (Community Development Worker, NNP), Barry Lanteigne (Lococo's)
For the fourth consecutive year, General Motors St. Catharines has generously provided funds for Niagara Nutrition Partners' Santa Surprise to benefit selected schools with a student nutrition program. Five thousand dollars worth of nutritious breakfast and snack foods was delivered to eight schools in St. Catharines, Thorold and West Niagara.
NNP coordinated the order and deliveries through Lococo's which included clementines, whole wheat bagels, whole grain cereals, yogurt and cheese strings, bananas, cantaloupe, granola bars and crackers among other items.
Anne Kirkpatrick, Program Manager for NNP is thrilled to be able to fulfill the Santa Surprise for a fourth year and remarked "We are so fortunate to have generous and community-minded partners like General Motors," she says. "Thank you from the bottom of our hearts for your support. Eight schools received a holiday surprise and hundreds of children will be getting the food for fuel they need be at their best while learning."
The schools receiving this food donation are: Connaught, Harriet Tubman, Burleigh Hill, St. Christopher, Richmond St., Central, St. Martin and Blessed Trinity.
Carolyne Watts, Plant Manager for General Motors St. Catharines recently had the opportunity to visit one of the recipient schools and see the student nutrition program and volunteers in action. "For many years, GM St. Catharines has been committed to driving change in the Niagara Region. Today I had the privilege of going to Connaught and observing their breakfast program. There is no one more deserving of our support than the children who will one day be the future of our community. We are honoured to assist NNP with such a worthwhile initiative. It's just the right thing to do."
NNP is dedicated to organizing, educating and equipping 180 existing student nutrition programs and more than 800 volunteers who run individual programs in schools handling everything from food purchasing, preparation, serving and clean-up. The goals of the programs are to provide children with the necessary nutrition required for energy, concentration and ultimately an increased chance of success at school. NNP works with elementary and secondary schools within the District School Board of Niagara, the Niagara Catholic District School Board, Conseil Scolaire Viamonde and Conseil Scolaire Mon Avenir. In addition to provincial government grants, NNP relies on community fundraising for 85 per cent of annual costs.
Niagara Nutrition Partners is a Region-wide initiative providing coordinated nutrition programs in elementary and secondary schools, as well as community based programs. NNP is able to offer support to nutritional programs through provincial grant programs and local fundraising efforts. For more information, please visit www.niagaranutritionpartners.com.